Innovative formats such as video games applied to skill development in corporate environments are providing an effective antidote against this lack of satisfaction.
In the last two years, organizations have accelerated their digitalization. This has been reflected in their training and development departments, which have clung to e-learning platforms as if they were lifelines.
In Gamelearn's Contradictions of Corporate Training report launched in early 2021, 60% of HR professionals surveyed said their companies had increased their online training budget that year. And in 2022, as the second edition of this report shows, the percentage of companies investing in digital training has actually increased.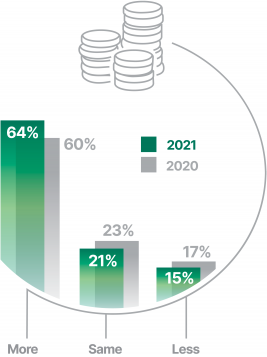 There's still a mismatch between companies' training offerings and employees' expectations
However, increased investment doesn't seem to be driving employees' satisfaction with online courses as strongly. On a scale of 1 to 10, they give an average score of only 6 to the digital training they receive from their companies, which is equivalent to an NPS of -29. This isn't a favorable score, although it is in line with the typical ratings associated with e-learning, often bogged down with monotonous and non-interactive formats and designs.
What do employees expect from e-learning?
In Contradictions of Corporate Training 2021, we asked employees from companies in different sectors what they thought were the main disadvantages of the online training they received in their organizations. The two most common responses had to do with it being boring and not very interactive.
One year later, the same complaint remains. In Contradictions of Corporate Training 2022, overwhelmingly, employees say they would like to find simulations of real-life situations and gamification in their companies' online courses. The curious thing is that, for the second year in a row, HR professionals and consultants also believe they should include these ingredients in their courses. It seems that on a theoretical level, all the participants in the corporate training ecosystem are aligned. However, it's still difficult to materialize this demand for innovation, even though, as we've seen, there is a clear budgetary commitment.
In fact, companies have increased their creation of online courses internally in 2021, compared to the previous year. Meanwhile, external instructional design consultants continue to play an important role in supporting organizations' e-learning development.
Therefore, the majority of employees and HR and L&D professionals, and even their companies' budgets, are ready to embrace new formats and methodologies in digital corporate training. So why isn't there more notable progress in that regard? It may still be difficult to convince management, or innovation may be unjustifiably identified with new and complicated processes. Nothing could be further from the truth in cases such as game-based learning or training video games.
What is game-based learning and why does it work?
Video games are a refreshing version of e-learning. Applied to educational and skill development objectives, they have proven able to put an end to the traditional disadvantages of online training that we mentioned before.
The basic ingredients of game-based learning are simple but very effective. The idea is to combine quality theoretical content with a story and engaging gamification elements, coupled with simulations that allow immediate feedback (learning by doing).
With this methodology, the HR and L&D teams of more and more companies, including those that have tried Gamelearn's platform, have met and continue to meet their training objectives, in line with the expected impact on the business. While employees enjoy a format that engages them, being able to assimilate and retain what they learn while having fun. What more could we ask for?
Video games—the link between expectations and results
The responses from both employees and HR professionals, which form the basis for the Contradictions of Corporate Training 2022 report, make it clear that we need to address the mismatch between the needs and expectations of all the participants in corporate training.
In this sense, training video games or digital serious games have become a solid bet with which to renew corporate training programs in digitized environments. More and more organizations are seeing the benefits for themselves, and that is certainly the best guarantee.
If you want to learn more about the opinions of more than a thousand employees and HR professionals on the corporate training they receive and provide, respectively, this revealing report is already available in a web-based format. It highlights some of the main overlaps and disconnects between these two groups.