This young decade is already full of many challenges and opportunities for businesses. In order to take them on effectively, companies must be prepared to go above and beyond to keep pace with the ever-changing world around us.
Customers today are constantly demanding faster results, more choices, and better technology. So, in order to keep up with their needs in the future, customer service providers must understand these 5 trends that define what excellent customer service will look like this year:
1. Embrace digital transformation
Digitalization and customer service go hand in hand today more than ever– we really can't have one without the other.
In 2020, all of us can easily access any information at the drop of a hat with our digital devices. Technology empowers us all in our daily lives, and this reality must be harnessed, not ignored. Because of digital transformation, clients can read news online, go to classes, telecommute, call friends, watch movies, and more– all while ordering food at home. It's important to keep this in mind when dealing with customers.
Because technology allows people to be more connected than ever, companies must adapt their services to this reality, be it through the digital channel, online campaigns, or e-commerce tools.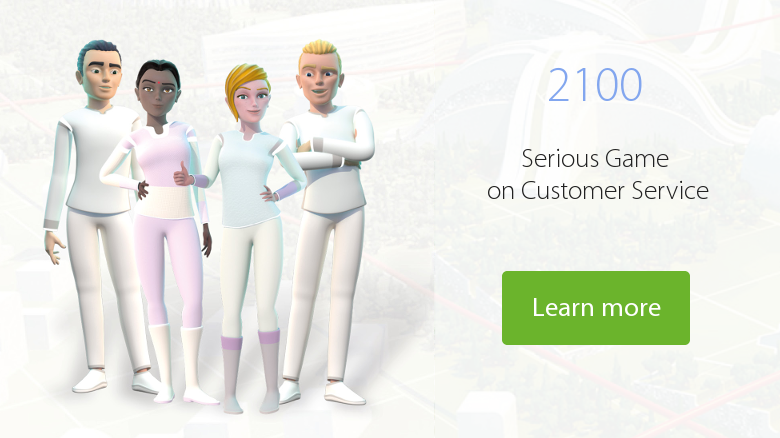 2. More channels means more advantages
Depending on the type of products or services you offer your customers, decide if you need a physical presence, online presence, or both. Each business is different.
However, in order to maximize your reach, make sure you are invested in multiple, varied channels so your message is carried to as wide of an audience as possible.
Always make sure you're active on the right channels, and the results will surprise you.
3. Customization is key
Recent trends show that 2020 will be an important year for customizable content. With demanding customers who want their needs tended to in a unique and specific way, you should be able to offer them as many customizable options as possible.
Make sure your customer service stands out by offering options that suit each of your customers individually. A great tool for this is Mars, a fully customizable serious game that allows you to build your own training and internal communications modules that are specific for your company's individual needs. This gives admins more tools and options to make sure their employees are engaging with and retaining key information as much as possible.
Taking the customers interests into account in your decisions will make them feel heard, valued, and happy. What more can you ask for than a happy customer?
4. Soft skills are here to stay
Soft skills, (traits like empathy, active listening, and emotional intelligence), have always been valuable, but now, they are crucial to creating memorable customer experiences.
These traits are essential in an office environment and can make a huge difference in your internal and external business relationships. Make sure that you and your employees emphasize treating both your clients and colleagues with respect and empathy.
5. Feedback has never been more important
Now, any information on the internet is available to the whole world at any time. This means that brands and companies can no longer hide behind advertising campaigns and must deliver quality service to each and every customer.
Clients demand products and services that meet their needs, and they are not afraid to share their honest opinions and experiences online. There is no shortage of places: reviews, tutorials, comment sections, etc., where they can tell their uncensored stories.
That's why it's important to know your products and services and to test them before offering them to the public. If you do this, you'll have everything you need to solve your customers' problems in a way no one else can. If you consistently go above and beyond for them, you'll create goodwill and loyalty among your customers, ensuring they stay with you for the long-term.
You'll need to make sure all these ideas are present in your customer service approach. Keep in mind that they are all marked by technological change, social flexibility, and information flow. It's very important to consider all these aspects to successfully address the inevitable changes in business, whether they're on the way or already in place.
Digitalization, new virtual experiences, automation, honest feedback, and others will be the keys to having a stable and promising economic year through customer service. Make sure you're ready!