An organization's Human Resources department is a vital part of its strategic functioning. In recent years, many new developments have emerged in business, and it's HR professionals who've been tasked with adapting to these changes on a large scale.
Although departments' budgets may fluctuate, the changes in 2020 caused by the COVID-19 pandemic have made investment in HR even more important to keep companies afloat successfully. So, where's that investment going exactly?
Key trends in HR departments' investment:
1. Remote work:
The first and most notorious change that companies have experienced in the last year has been teleworking. And, more importantly, ensuring that all business processes were carried out normally at the same time.
The concepts of workspace and workplace relationships have changed. This includes onboarding processes, from training to talent retention.
While it's true that many businesses have reduced the costs generated by on-site work in an office, that budget has been diverted to other elements that have gained more importance recently.
With the "new normal" Human Resources departments will be more likely to invest in:
2. Training that's continuous and online:
With most companies working remotely, we've been forced to use online training to keep learning continuously. 2020 has been full of challenges and providing employees with the skills to cope has been one of the main goals of many Human Resources departments.
Gamelearn's survey of 1,500 Human Resources professionals and employees from different sectors, has shown that 43% of organizations have hired external companies to carry out their online training plan and 24% have added subcontracted resources to their own.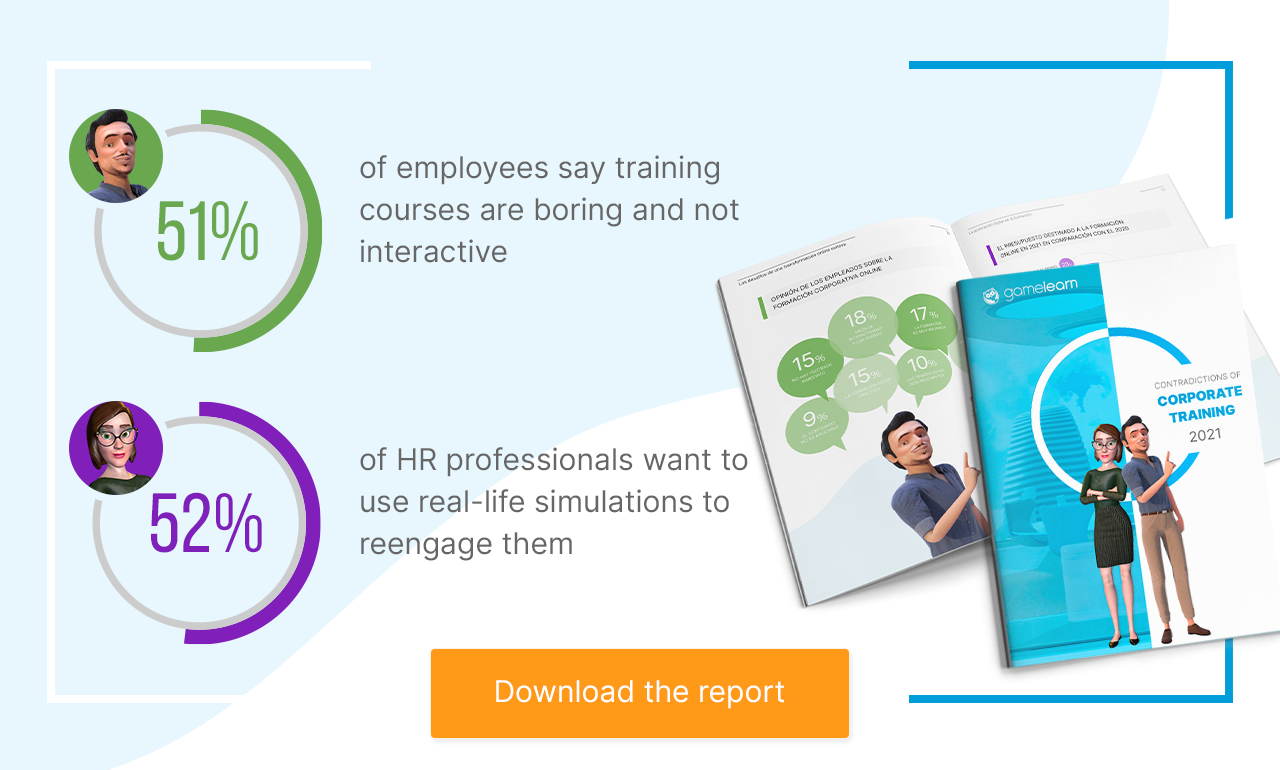 As such, increased investment in online training is expected in 2021. Disruptive companies will bet on the creation of their own content using authoring tools and instructional design, intending to be more autonomous and self-sufficient.
3. New technologies:
Telework wouldn't be possible or efficient if we didn't have the technological developments that allow us to stay connected at a distance. Although many companies already had a variety of software and devices to optimize their daily activities in other areas, Human Resources departments have now joined this trend en masse.
Among the most used tools we can find:
4. Personal brand and company culture:
Human Resources departments want their company's employer brand to stand out. To do so, they must generate an external corporate image aligned with the company's culture, in addition to responding to the current needs of professionals.
To achieve this task, companies encourage:
5. Talent retention:
When a new employee is added to the company, time and resources are invested, from onboarding to reskilling. If a company has a high staff turnover rate, it experiences losses associated with this process. Once a suitable employee is found, the second phase begins—how to retain talent?
There's no magic formula that works the same for all companies. However, 94% of employees say they'll stay for longer at their company if it invests in their learning and development.
In response to this, Human Resources departments have implemented measures such as:
In all of these new trends making waves in the HR and L&D fileds, we see one point they all have in common—online training. Whether it's for onboarding or talent retention, all training has had to move online and, to do so, we must use new technologies. But not all technologies are created equal, it's vitally important to choose quality online formats for our training. Skills training experts have confirmed that with innovative training methodologies such as game-based learning, companies can meet their employees' expectations and satisfy their HR departments' needs, all while keeping costs down.
If you want to know more about the trends for corporate training in 2021, get the full report here.