Whether we're ready for it or not, digital transformation has become a deciding factor in the long-term success of many companies and organizations. In the corporate sector, this transformation has only been accelerated by COVID-19, which has thrust online formats into the spotlight this year.
Telecommuting has become the "new normal", and training departments across many industries have opted for different e-learning methodologies to overcome specific challenges and encourage their workforce to upskill and reskill. But, given the data, is online training here to stay or will it be just another fleeting trend?
The sustained growth of online training
E-learning in the corporate sector has been on the rise for several years now, with 90% of organizations making use of the methodology in 2020 compared to just 4% in 1995.
Also, considering the benefits that switching from face-to-face to digital training can offer, many companies these days have indicated their plans to place their bets on the latter moving forward. Specifically, in a 2017 poll, 98% of U.S. companies said they were planning on including online courses in their training plan by 2020.
And, with the arrival of the pandemic, the online training boom has become even more pronounced. Google search data confirms this as well. In the US, Canada, and the UK, searches for "online training" increased 50% in one year: 6,600 total searches in 2019 compared to 9,900 in 2020. 
Fluctuations in Google search trends 
The data shows that online training is here to stay, and this is already a reality for many companies. According to a survey carried out by Gamelearn of 1,500 HR professionals and employees from various sectors, in 2020, 70% of organizations had prioritized their rollout of online training, and the same percentage of employees had already taken online courses that year. 
5 mistakes to avoid in online corporate training
"Digital" is no longer optional. It has turned into a necessity for disruptive companies that want to boost the performance of their workforce, especially in times of crisis and uncertainty. However, if the digital training boom has taught us anything, it's that not all learning tools or formats are equal in their effectiveness.
If companies want their online training to be successful, they should avoid:
offering unintuitive tools.

The training platform you choose will be where your students' learning takes place. So, if the interface isn't user-centric, they simply aren't likely to spend a lot of time there, and they'll never get hooked. Be sure to test the learning solution you choose before launching it to the whole company.

presenting information exclusively as text and video.

It's not hard to imagine that employees are easily bored when training consists of dense blocks of text or recorded monologues on video. The key is to embrace innovative e-learning methodologies.

using one, universal training itinerary for all teams.

Not everyone in your company does the same tasks or has the same skillset, so it's best to offer a wide array of

training itineraries

to complement all types of professional profiles. Don't limit the scope of the training to a single online course. Offer personalized training itineraries and you'll see the difference it makes.

presenting training as something external.

The concept of corporate training has changed over time. At the moment, it's important for employees to see training as a part of the company's culture; that is, as a continuous learning process that helps them be better and perform work tasks more efficiently. It's no longer an incidental by-product of the job and should happen as a part of their involvement in the company.

limiting training options.

Time is one of our scarcest resources. So offering training that makes employees feel comfortable doing it anywhere, at any time, and on any device will allow them to properly organize themselves and stay productive.
The secret formula for providing training that engages students
Of all the e-learning options and features out there, it's important to know which ones actually help make the process more effective. Even though training is beneficial for employees and helps them do their job better, it's true that, oftentimes, professionals aren't exactly enthusiastic about having to do it. So what's the solution?
1. Attract them: First impressions are often the most important. So making the training attractive to them from the get-go will make them more likely to stick with it. If you deliver useful, quality content that catches their eye (i.e. game-based learning), employees will be drawn to it from day one.
2. Hook them in: You know the feeling of having fun with something and wanting to keep going with it? You can get that with training too. The key is for employees to see it as an exciting, beneficial, and refreshing activity for them. Utilizing gamified elements like rewards, rankings, and medals works quite well for this.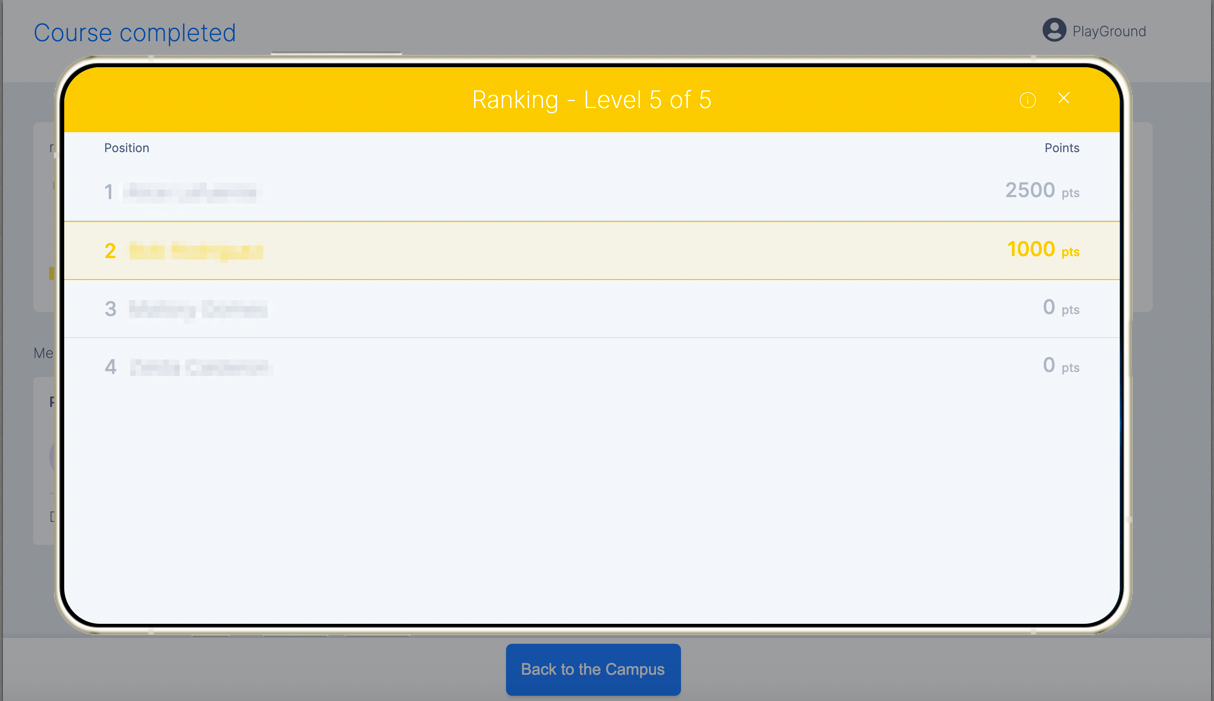 Screenshot of one of the leaderboards offered in Gamelearn serious games to encourage active participation throughout the learning process.
3. Teach them: It's important for online courses to offer valuable information that will actually help staff in their day-to-day. Also, if employees are able to test what they learn in realistic simulators, instant feedback can be a highly motivating factor for them.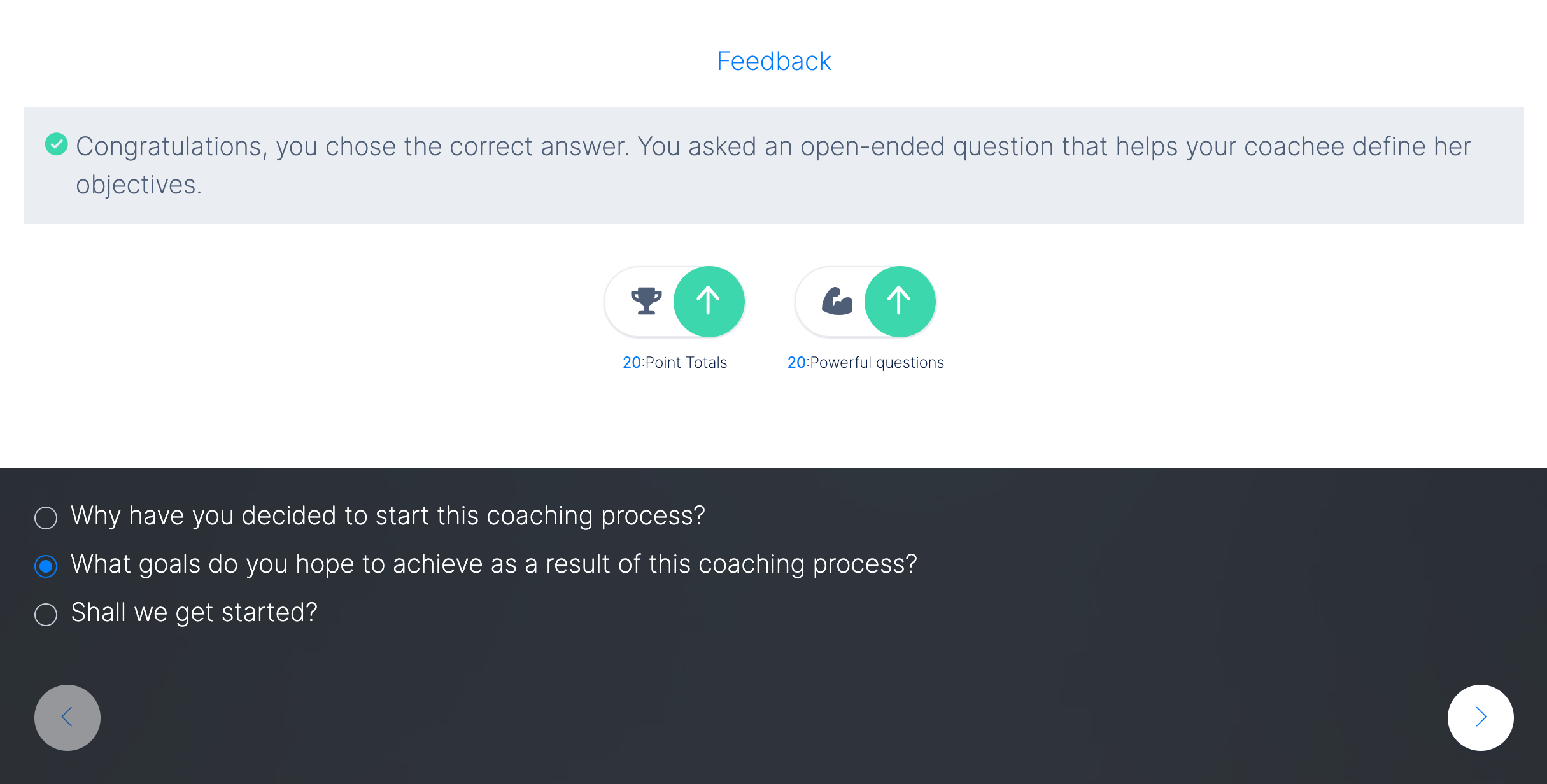 Screenshot of a feedback message generated in real-time on the Gamelearn platform.
4. Measure results: HR departments often focus their efforts on simply establishing a training plan and getting employees to complete it. However, there's nothing stopping them from fully utilizing the comprehensive data offered on some platforms. Doing so makes it easier to analyze the results and quantify the true impact the training has had on the company.
In the image, we can see just some of the data points offered on Gamelearn's online platform: number of students, activity, average progress, and duration of the course.
Ultimately, the present and future of training are online. Many disruptive companies have already embraced an innovative methodology like game-based learning, as it combines the best parts of face-to-face and digital training. It manages this with an interactive, flexible, and fun format, which also includes quality content that's applicable to our jobs. With this training solution, companies can really improve their results. Want to make an impact on yours?