Serious games are games whose purpose is to train more than to entertain. They have gained undeniable popularity in recent years, with various organizations implementing training video games as part of their Learning and Development programs.
Serious games are rooted in the game-based learning methodology. This methodology is particularly well-suited to train and develop soft skills, which are notoriously hard to teach using traditional training methods. Serious games and game-based learning are the future of corporate training.
But not all serious games are made equal. Let's take a look at the characteristics a serious game needs to really deliver results.
What makes an effective serious game?
The main appeal of serious games over traditional types of training is that they boost learners' engagement and motivation. They also provide experiential learning, which increases the levels of knowledge retention and allows employees to actually practice what they're learning.
Serious games that fulfill all the necessary objectives must have the following characteristics:
Gamification and storytelling to captivate employees' attention and appeal to their sense of competition.

Top-quality and useful content that teaches all the skills employees need to thrive in their jobs, and their daily lives.

Real-life simulations with personalized feedback which allow learners to practice useful skills in realistic but safe environments.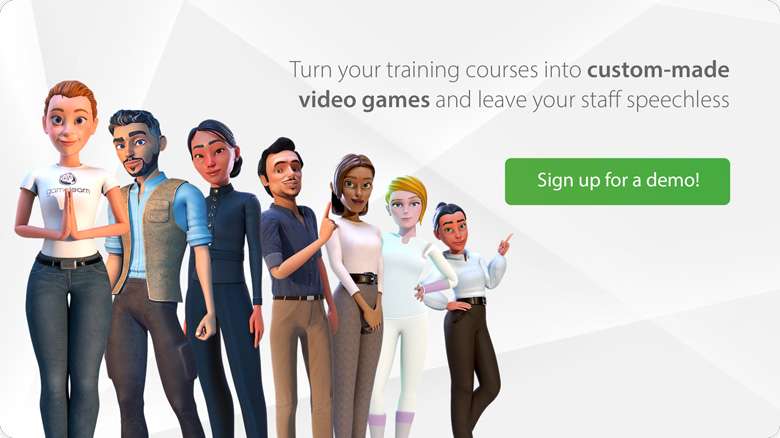 With this in mind, Serious Play Conference selected three serious games and simulations created for use in corporate training programs and awarded them for their excellence in the 2020 International Serious Play Awards Program.
Serious Play Awards
The following corporate training games won Gold Medals at the International Serious Play Awards:
Merchants

: a serious game on negotiation and conflict resolution created by Gamelearn. This online game is based on a simulator that recreates six real cases of negotiation in which employees must apply their skills to negotiate, communicate a proposal effectively, and resolve conflicts. Learners are able to see the immediate results of their decisions and receive feedback. It includes a compelling story and rankings after each level to encourage competition.

Pizza Xpress

: a management game developed by PepsiCo, Inc. and MPS Interactive Systems. It's designed to encourage maintenance team members to plan and execute the processes required to run a pizza restaurant. Learners can experiment with personnel allocations for meeting pizza demand, in a virtual restaurant, with the ability to analyze the outcomes of their decisions.

Brave to the Sea

: an interactive learning experience developed by Expansão – Experiências de Aprendizagem and designed by Marcelo Eira. It aims to provide self-reflection and develop skills for a team to be prepared for the era of Digital Transformation. In a world full of change, uncertainty, and an abundance of information, what was successful yesterday is not guaranteed to be successful tomorrow.
It's clear that game-based learning is the way to go. The examples above are of some outstanding serious games, but there are many more. Gamelearn's platform has over a dozen award-winning games available in its catalogue that anyone with a subscription can access in full. There's never been a better time than now to revitalize your corporate training, so why not embrace game-based learning?