Learning! 100 Award Winners
Merchants® course-video game on negotiation and the California State Board of Equalization have been recognized for the second consecutive year with their inclusion in the Learning! 100 top learning organizations by Elearning! Media Group, which has chosen the one hundred best companies in 2015 committed to innovation and learning for the training of their employees.
The California State BOE has been one of the 40 public sector companies included in the 100 top learning organizations for 2015, along with 60 other corporations like Google, Chrysler, Bayer, IBM or the Gates Foundation. The reason: the launch of the training program Merchants, the simulator developed by Gamelearn for the training of negotiation and conflict resolution skills.
California chooses Gamelearn
The main function of the California State Board of Equalization is to administer California State's taxes in various offices throughout the state. Those responsible for development identified the need to train their officials to improve their communication and negotiation skills in order to interact with taxpayers. The best solution that Mark Walker, training manager of the Agency, found was Merchants. The course-video game by Gamelearn offered him an innovative formula that guaranteed results for the company and growth for his team. Betting on game-based learning solutions has proved to be a great success since Merchants was first implemented in 2014.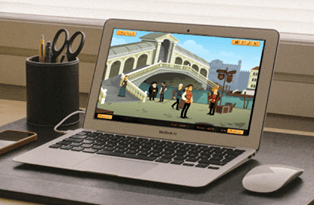 Merchants built the motivation employees needed, which has been a categorical success again this 2015. The use of this gamified tool, developed by Gamelearn – world leader in serious games for corporate training – has been, in the words of Walker, a "different training method" with the help of which students were able to "process" and "store" information in a fun and "effective" way. Participants who have played Merchants have learnt what they intended to: "communication and negotiation skills to find win-win solutions."
The implementation, for the second consecutive year, of the course-video game by Gamelearn in this American organization and its inclusion in the top 100, proves once again that gamification is more than a trend in corporate training. Game-based learning makes a difference both to students, who see their effort rewarded with practical and effective learning, and to companies, which see their investment translated in greater commitment and performance.