Since the beginning of this decade, we've been experiencing a digital acceleration that has forced us to rethink corporate training. Now, with the pandemic pushing everything online in a matter of months, the need to renew the virtual formats with which we develop our teams' talents has become even more apparent.
As we've learned from the Contradictions of Corporate Training 2021 report, employees' main complaints about online training in its current form are that it's boring and lacks interactivity. HR and L&D professionals already know this, with over half of those surveyed confirming that simulations of real-life cases would improve the effectiveness of their training.
Game-based learning has positioned itself as the best solution to meet everyone's needs. In the Game-based learning in action whitepaper, we learn what makes game-based learning the most effective methodology for online corporate training, and we hear from some of the HR and L&D managers at companies that are already implementing it successfully.
Game-based learning in action: the three keys to success
To really get the most out of game-based learning, a program must include these three indispensable components:
Quality content that's directly applicable to employees' jobs

Elements of gamification paired with an interesting story to keep learners engaged

Real-life simulations that provide immediate and personalized feedback
First and foremost, quality content is essential in any corporate training course. The content is what the employees will ultimately be learning, so it needs to be useful to them, and to their jobs. In recent years, there's been a trend towards learning soft skills. Skills such as critical thinking or emotional intelligence are becoming ever more important to the modern workplace. 
Game-based learning is particularly well-suited to teaching these skills because it provides experiential learning. An effective game-based learning course will include applicable educational content, with a solid theoretical base and practical cases that allow learners to practice the relevant skills.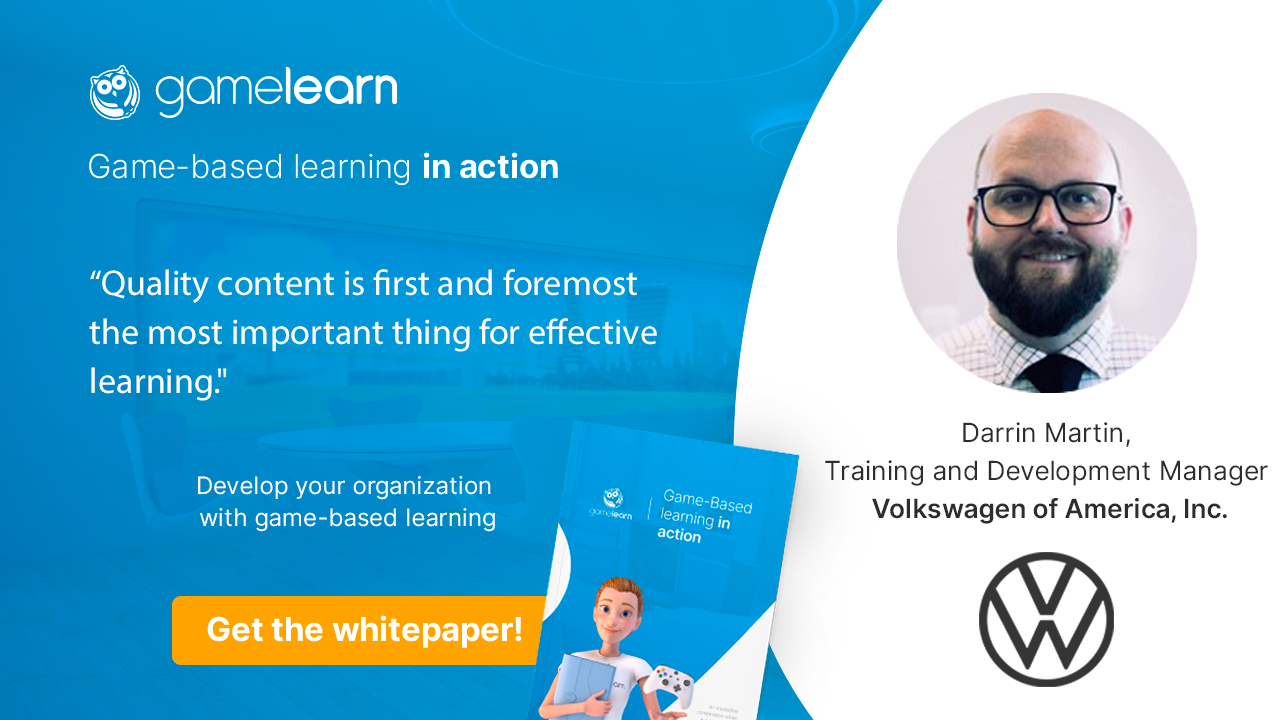 But once we have the right content, how can we guarantee employees stay motivated and engaged enough to finish the course? Here's where storytelling and gamification step in. When creating a serious game for a training program, it's essential to have an interesting story that will keep learners engaged from start to finish. Wanting to know what happens next, how the story ends, is what's going to ensure employees finish the course. 
And of course, it wouldn't be game-based learning without gamification. At the end of the day, gamification is what makes the course fun. Along with the story, it's the game mechanics that keep learners motivated to finish the course. Gamification and storytelling increase completion rates and knowledge retention, guaranteeing the success of the training program.
The final components of an effective game-based learning program are real-life simulations with personalized feedback. Simulations are what allow employees to put the knowledge they learn in the course into practice and apply it to real-life situations. This allows learners to experience the real consequences of their actions in a safe environment, which means they can experiment with different decisions and see different outcomes, leading to a more practical understanding of the knowledge and more confidence in their skills.
Being able to see the direct consequences of their decisions gives them direct and personal feedback that they can use to course correct. This ensures no bad habits are internalized and employees understand what they are learning, not simply memorizing.
When all these elements work together, we get the kind of corporate training that meets everyone's objectives and delivers tangible results. In the words of Natasa Basic, FastForward and Management Trainee Program Manager at Coca-Cola HBC, who is already implementing a successful game-based learning program:
"It is the fine blend of all the elements of game-based learning that makes the Gamelearn's serious games impactful, both on experience and development of the learner: quality content for each skill being developed, interwoven with an interactive storyline and gamification that makes learning more engaging and fun, as well as personalized feedback and materials that the learner can download and keep for future reference as a reminder and inspiration for further application in real day-to-day work what they have been learning and practicing in the simulated environment."