A complete start-to-finish guide to help you prepare a game-based learning program, the fastest growing trend in corporate learning
It has been demonstrated that game-based learning is one of the best ways to increase employee engagement and cement learning more effectively and for longer.
Numerous scientific studies have demonstrated that the use of game-based learning and simulators fosters experiential learning (learning by doing), increases student motivation and reduces training costs.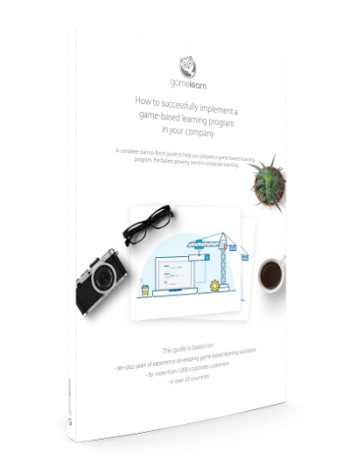 As a result, game-based learning is experiencing annual growth of 18.9% and is set to top revenues of 7 billion dollars by 2021.
However, implementing a game-based learning program in your company is no simple task. Game-based learning is not a magic potion that works at the push of a button; it entails a lengthy provider selection process, a well-planned launch campaign, ongoing monitoring during implementation and assessment of the results.
In this guide, we are going to help you develop an overarching strategy to ensure that your game-based learning program is a success. If you heed the following advice, you will not only be able to improve your course engagement and completion rates, you will also be able to use the statistics compiled to get to know your employees better, implement other learning programs and enhance the visibility of the training department.
Are you ready?
3, 2, 1…go!