Gamelearn was named the winner of a Silver Stevie® Award in the Training Programs or Media -Skills Training category in the fourth annual Stevie Awards for Great Employers.
The Stevie Awards for Great Employers recognize the world's best employers and the human resources professionals, teams, achievements and HR-related products and suppliers who help to create and drive great places to work.
Nicknamed the Stevies for the Greek word meaning "crowned," the awards were presented to winners at a gala ceremony at the Marriott Marquis Hotel in New York on Friday, September 20.
More than 600 nominations from organizations of all sizes were submitted this year for consideration in a wide range of HR-related categories, including Achievement in Workplace Safety & Compliance, Employer of the Year, Chief Human Resources Officer of the Year, Human Resources Team of the Year, Employee Relations Solution Provider of the Year among others. Gamelearn was nominated in the Training Programs or Media -Skills Training category with its serious game on time management and personal productivity Triskelion.
A serious game to develop work-life balance
The judges emphasized this video game's ability "to provide the users a fully immersive training experience and in various languages". They recognized that the "statistics shared around customer engagement and satisfaction provides insights into the capabilities delivered with the product suite and the real life impact it has around leveraging skills learned through this training approach".
As a matter of fact, this is not the first award for Triskelion. It was also honored as Gold Medal Winner at the 2019 International Serious Play Awards a few months ago.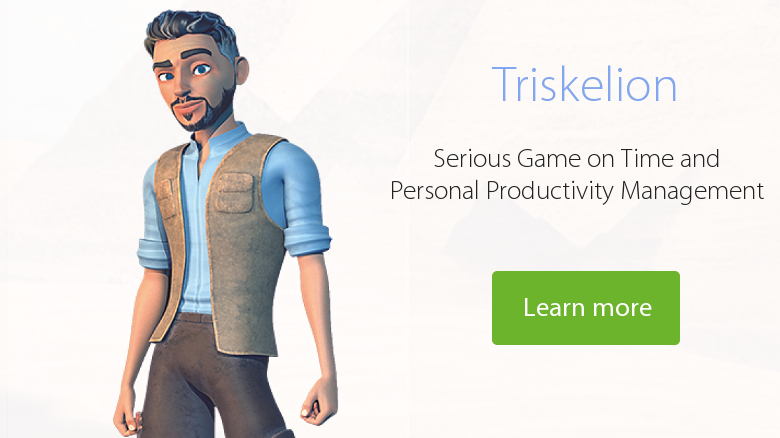 More than 60 professionals worldwide participated in the judging process to select this year's Stevie Award winners. "In the fourth edition of the Stevie Awards for Great Employers, the judges were impressed by the Stevie winners who dedicate each day to making the lives of their employees and teams better, through training, software, programs, and more. We are pleased to celebrate them in 2019 and look forward to what they will accomplish in 2020," said Michael Gallagher, founder and executive chairman of the Stevie Awards.
Details about the Stevie Awards for Great Employers and the list of 2019 Stevie winners are available at their website.