As technology continues to play a larger role in our lives, it's only natural that company training methods need to adapt to new standards and expectations as well.
A good example of this is the clear shift towards game-based learning in the corporate sector. By moving training online, companies can reduce costs by eliminating the need for classrooms and teachers, increase engagement by giving employees a fun game to play and learn with, and above all, increase the retention rates and overall effectiveness of their training regimens.
But that begs the question, how do you know which course is best for your company? To help you answer this question, let's look at 5 online training courses that are proven to quantifiably improve corporate training programs.
A serious game on negotiation and conflict resolution that offers students 6 real-life scenarios to practice and hone their skills negotiating, making effective proposals, and resolving conflict.
The pharmaceutical company MSD implemented this game with the goal of building a new training program in line with their core values, company vision, and mission statement and, at the same time, cut down on the average training cost per employee. With Merchants, they saw the following results:
99%

content applicability rate

99%

course recommendation rate

58%

decrease in training costs.

8%

increase in productivity

4.8/5

average user score
This online course on time management and personal productivity uses an experiential learning simulator to recreate real situations and guide students to create their own self-organization system.
Man Truck & Bus was looking for a course to help revamp their corporate training and increase staff motivation. Virginia Sánchez, the company's Director of Training and Development relays her experience:
"Our company's most important asset is our employees, and our goal is to provide them the tools and knowledge they need for their job. We've found that doing so in a fun and engaging way increases their motivation."
Triskelion completely transformed the company's training program, turning it into a useful tool for its employees. The numbers look great too:
98%

of participants reported an increase in their motivation at work.

63%

decrease in training cost per employee

15%

increase in productivity

94%

course completion rate

97%

content applicability rate
This online course takes students on an adventure where that requires them to develop their leadership and team management skills to survive. The player must lead their team off a deserted island after a plane crash leaves them marooned there. During the process, they will need to learn and apply strategies, techniques, and tools to work on this important yet often unquantifiable skill.
To give their middle managers the chance to hone their leadership and team management skills from whatever office in the world, BCD Travel turned to Pacific and saw a: 
91%

course recommendation rate

100%

applicability rate

100%

course completion rate

Reduction in training time from

12 months to 5.

The company also reduced the number of face-to-face training sessions from five to two, leading to a decrease in associated costs (travel, accommodation, opportunity cost, etc.) of

60%

.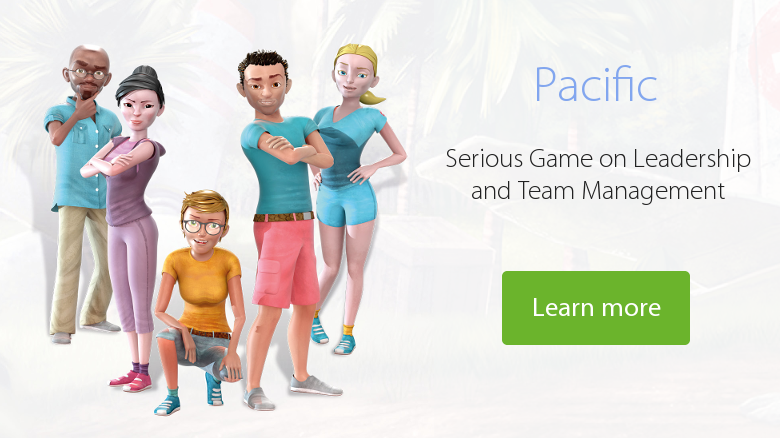 An online serious game on coaching that lets the student apply their skills in order to get their coachee to define their goals, analyze their situation, explore their options, and design their plan of attack. During the process, players will overcome obstacles and barriers they're sure to find along the way.
Crypto is a fun serious game that mixes point-and-click exploration, compelling narrative, and tricky puzzles. Throughout all five levels of the game, students must find, analyze, and capitalize on a company's cybersecurity failures and shortcomings in order to unravel the twist ending.
Note: These last two games are part of our most recent round of new releases so data on their effectiveness is still a work in progress.
These five serious games, along with many others, can all be found in Gamelearn's catalog of online games. Check them out now and you'll see how they can benefit your company. Get training online now and start seeing results!