Game-based learning has gained momentum and seen more use in the last few years because of its efficiency and productivity compared to more traditional alternatives (face-to-face learning and e-learning.) The data is undeniable and more and more HR departments are embracing this approach moving forward.
Game-based learning in the corporate sector is particularly noteworthy, with an annual growth rate of 47.5%, as reflected in the recent Metaari study. Furthermore, it's estimated that between 2019 and 2024, income generated on this front will grow six-fold.
But, why is game-based learning such an effective learning tool? Let's look at 5 cases that help us paint the picture:
The insurance company has been using serious games to better train their teams across the board, even in mandatory and sometimes-boring topics like compliance. To this end, 900 employees received training through the video game ADA, and the results were clear:
90%

course completion rate

98.6%

recommendation rate among students

Increased employee motivation.
The dynamic experience broke the norms, creating buzz among the employees, and getting them talking. After the course, the idea that compliance training is boring had been shattered and turned into something to look forward to. It even helped employees bond and became a topic of conversation around the water cooler at work.
2. Hyundai
For Hyundai Spain, game-based learning has been an integral part of the company's training process for more than ten years. They started nationally, just in Spain, with Merchants, the serious game on negotiation and conflict resolution. But, following the method's continued success, they expanded its use to Hyundai Motor America and Hyundai Motor Europe.
This was possible thanks to what the game offers:
It's part of Gamelearn's multilingual platform of games, offered in at least 4 languages: English, Spanish, French, and German.

It gets rid of time constraints and the need for a physical classroom.

It's easy because it's an adaptable cloud-based option that can be accessed anywhere and everywhere.
Hyundai had a tangible training objective: improve its employee's professional development and increase productivity. To achieve this, they made use of Learning Pathways to cultivate employee soft skills and measure results throughout the process.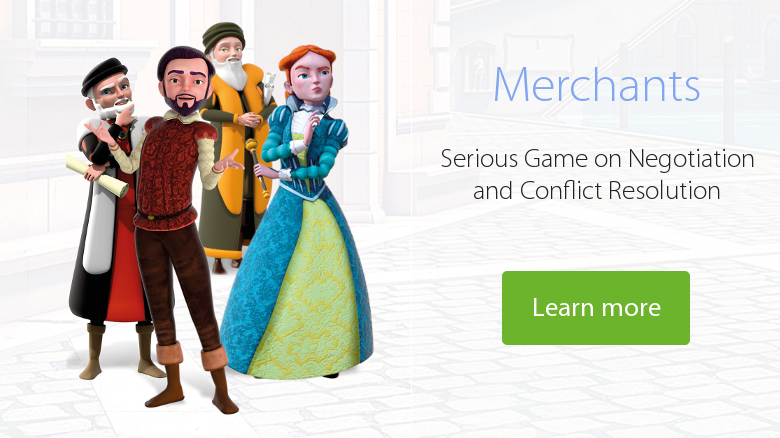 3. Hotel Ritz
This famous hotel chain needed to train its employees and get them all on the same page regarding the company's mission, vision, and values –a vital, yet largely unquantifiable area. For this reason, they turned to game-based learning to make the concepts more tangible and engaging, which would get better results. The most important thing for them was to convey the information effectively and in a way that the students wouldn't forget it.
Magdalena González, Head of Training at the Ritz Hotel, assures us that the engagement she saw with the serious games was remarkable:
"Attaching emotion to learning really helps and makes students want to keep playing, learning, and enjoying the process. Many students told me they were learning without even realizing it."
4. The Cervantes Institute

For the employees of Instituto Cervantes, the organization's video game training program was so engaging and productive, that they wanted to convert all their training material to the format.
The Gamelearn platform allowed them to effectively develop essential skills and include content that's applicable to any job. In short, it's not as difficult as it may initially seem to make training content eye-catching and engaging. It becomes automatic when people are having fun and applying what they learn.
5. Kyocera
Kyocera also uses game-based learning in their corporate environment, not just for its innovative and engaging format, but also for the money they save.
On the one hand, because it's cloud-based, students are able to decide when and where to do the training. They don't need to be in a specific classroom at a specific time; they can do it whenever their schedule allows. On the other hand, the company cuts costs related to traditional learning methods: transportation, materials, hiring teachers, opportunity costs, and more.
Additionally, whatever training program they select has the ability to reach more topics and people. Anyone with access to the internet can receive training, either in the office or while working from home.