Innovations in technology have brought about changes in various aspects of business, including training. An example of this is the implementation of a much more efficient skills development process tailored to the needs of the organization. For this reason, it's necessary to understand the benefits of an LMS platform.
The term Learning Management System, or LMS, refers to a tool that aims to address knowledge management and offer new options for interaction, advancing the possibilities of distance learning. It has become possible to offer online courses with great control over information management, which has completely changed the rules of e-learning. But what are the advantages of this type of platform?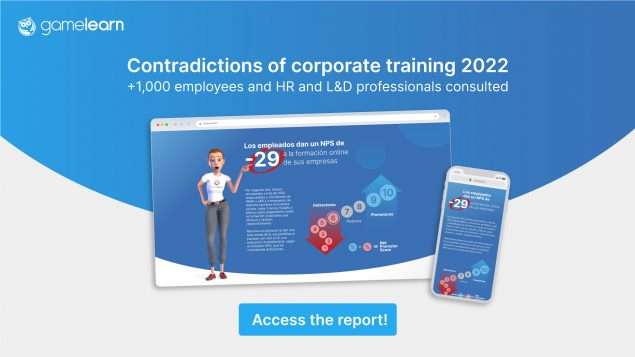 1. Content diversification
LMS platforms offer various possibilities to provide educational content, such as texts, podcasts, video classes, infographics, and others, making corporate training more motivating and effective. These resources also help employees learn better, as information can be absorbed more easily, which has a direct impact on the development of new skills.
2. Customization
This feature is also part of the benefits of an LMS platform, giving HR the possibility to modify the content and bring it closer to the needs of the company and employees. This way, the actions and planning will be more aligned, increasing the chances of achieving the expected results.
3. Talent development
A learning process based on remote learning conveys to employees that the company is committed to innovation and technology. This is generally a very positive way to increase the attraction and retention of talent.
4. High quality
LMS platforms add quality to training. They make it possible to work with precise and concrete data to measure the evolution and engagement of learners. This improves the HR department's vision of user development and, thus, their decision-making. In fact, thanks to a complete analysis, the organization is able to identify the most relevant content for its employees.
5. Centralization of tools
All operations related to remote learning practices are performed on the LMS platform. So instead of HR having to rely on several tools, a single system can solve all their problems, which results in time optimization, with centralized tasks.
6. Updated content
LMS platforms allow to easily update or correct the available training courses, inserting new instructions, making changes, improving the contents, etc.
7. Saving time and money
Using an LMS platform to create, manage, and execute training programs saves hours of work compared to traditional methods. The LMS allows traditional training to be delivered through online courses, which reduces the costs associated with face-to-face training, such as travel, accommodation, and room hire and allows each person to manage their own learning time.
With an LMS, organizations save costs that can be allocated to other resources. Instead of facing recurring costs to train people working in different locations, these resources can be used to produce a course that can be used repeatedly with new groups of learners. We know the costs to the environment of constantly moving people around, and reducing these costs can be very important.
8. Easy access to information
All information is structured in an organized way in one place, making it accessible to all users. Courses, calendars, multimedia content, files, and evaluations are accessible with a single click. All students have access to learning content and materials at any time and anywhere, as long as they have access to the internet.
9. Scalability
As an organization grows, its training needs increase. Training 10 people is very different from training 200 people, isn't it?
However, as a company grows, so does an LMS platform. You don't have to worry about future needs, such as new sites or a growing number of users. Flexibility is an important feature of an LMS, as you can easily increase the number of users accessing the platform according to your needs.
10. Increased engagement
Those who work in HR know how complex it is to engage employees. However, by using an LMS platform, you will have the tools at your disposal to bring great results. We love to learn, we love challenges, and we love feeling that our goals have been achieved and that greater benefits will follow. A well-developed course on an e-learning platform can bring all these advantages to your employees.